PEEP
Augmented Digital Learning with PEEP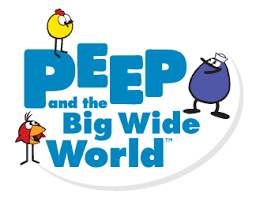 NCAM is partnering with Benetech's
DIAGRAM Center
and WGBH's
PEEP and the Big Wide World
to create accessible learning materials for early learners. Utilizing digital learning assets from WGBH's
PEEP and the Big Wide World
website, NCAM will add accommodations for students with disabilities. These augmented learning assets will be freely available for teachers, parents and students to use in teaching and will also serve as exemplars for parents and teachers to create their own augmented learning assets. In addition, NCAM will study how adding accessibility features to digital learning assets improve engagement of children with disabilities not traditionally associated with print disabilities.
The
PEEP and the Big Wide World
website is an NSF-funded, STEM-focused educational website for early learners that includes resources for children, parents and educators. Nearly the entire site is available in English and Spanish, the English language videos are captioned, and the games, activities and related stand-alone apps are intended for a broad audience of early learners.
Last year, the
PEEP
website had nearly 5 million page views. The
PEEP YouTube channe
l has over 26,000 subscribers and PEEP videos have been viewed over 34.4 million times on YouTube. In addition, the
PEEP in Spanish YouTube channel
has over 3,500 subscribers and PEEP Spanish-language videos have been viewed nearly 4 million times on YouTube.
Major Activities:
Year 1: Plan
Identify a group of assets to receive accommodations, for example, videos and activities that are connected to a specific curriculum, e.g., the PEEP Water Curriculum.
Determine what accommodations to apply to which assets.
Year 2 and Year 3: Implement, Research, and Disseminate
Develop and apply accommodations (e.g., video descriptions, easy-reader captions, keyboard-only access, image descriptions, accessible PDFs) to a selection of digital learning assets.
Modify a selection of digital learning assets to be inclusive for children with a variety of disabilities and individual learning styles.
Host a YouTube channel to feature videos with accessibility features.
Potentially add a link to the main PEEP website to these augmented assets.
Usability testing across target populations to study engagement with and effectiveness of assets with added accommodations.

Special focus on engagement and effectiveness with students who are outside of the traditional audience for a specific accommodation (ex. video descriptions and students with intellectual disabilities.)

Data analysis, synthesis, and reports.
Presentation of findings.
Contact:
Bryan Gould
Director, Accessible Learning and Assessment Technology
(617) 300-3472
Email Bryan