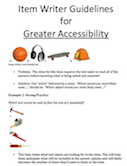 NCAM's Item Writer Guidelines for Greater Accessibility (accessible PDF)
NCAM is excited to announce the publication of our new Item Writer Guidelines for Greater Accessibility, a comprehensive and unique resource that can be used to train item writers on accessibility basics with examples and instructions.
Focusing on item construction and the use of images, these guidelines will help reduce the need for additional work to make items accessible for students who use assistive technology. By addressing the decisions that test item writers face while they are actually creating the test, the NCAM Item Writer Guidelines explain how to create items that minimize the need for text alternatives. The Guidelines also provide examples of small changes that will help ensure clarity for students using assistive technology and, potentially, produce better items for all students.
Consider accessibility at the earliest stage in the test creation process and the results will be a more thoughtful test, ready for effective text alternatives, that will lead to a truly accessible testing experience for all students.
Donna A. Danielewski, Ph.D.
Director, The Carl and Ruth Shapiro Family
National Center for Accessible Media at WGBH (NCAM)
(617) 300-2454
Email Donna
Bryan Gould
Director, Accessible Learning and Assessment Technology
(617) 300-3472
Email Bryan