What is STEP?
STEP (Simple Tool for Error Prioritization) is a tool for analyzing evaluation data from popular Web accessibility evaluation tools, such as Watchfire's Bobby and UsableNet's LIFT. STEP does not perform the accessibility evaluation, but examines the results of an evaluation and creates a report which prioritizes the results based on the severity and repairability of the errors found, as well as on the importance of the pages where errors were identified.
Features:
A unique system for prioritizing accessibility errors found using Web accessibility evaluation tools
Multiple work plans for repairing errors
An easy-to-follow interface to guide you through each selection
An option for designating page importance
A manual check override for clearing specific errors
A tool for locating errors in templates
STEP's reports show:
a prioritized list of pages in your site based on the type of errors found on those pages
a list of errors based on either the WCAG guidelines or Section 508 standards
a graphical representation of the overall accessibility issues found in your site
a historical view of the repair progress over time
error patterns that may be associated with templates
STEP gives priority to pages with severe, easy-to-fix errors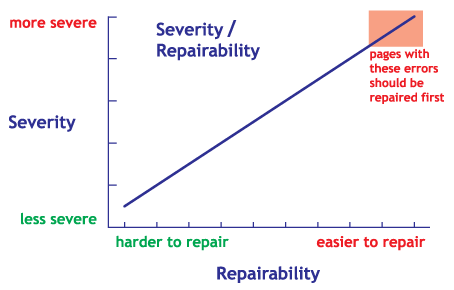 Where can I get STEP?
STEP is no longer available. Please contact
Donna Danielewski
for further information.
Funding for STEP was provided by GSA.
© 2003-2010 WGBH Educational Foundation.